Exhibitions and Performances
With associated artists, we implement exhibition projects, performances between digital art and geography …
The Trails Showcase

Mucem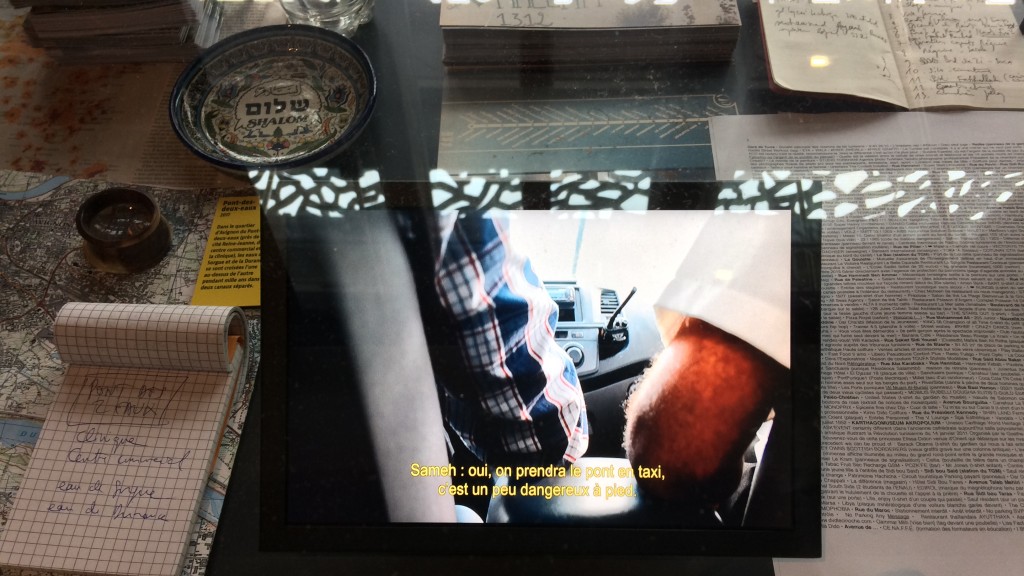 By assembling the archives of metropolitan trails designers, this 8-metre-long showcase tells the genesis and worlds of an emerging practice that opens up a new creative space at the crossroads of art and urban planning, ecology and tourism.
Designed for the permanent exhibition "Connectivities", this showcase has been enriched with new trails since it was set up in 2017.
With the Metropolitan Paths of Bordeaux, Milan, Marseille, Paris, Istanbul, Tunis, Avignon, Cologne, London, Boston, Athens…
With archives of Sophie Anou, Sameh Arfaoui, Jordi Ballesta, Gianni Biondillo, Jens Denissen, Yvan Detraz, Matthieu Duperrex, Alexandre Field, Charlie Fox, Baptiste Lanaspeze, Paul-Hervé Lavessière, Geoffroy Mathieu, Nicolas Mémain, Pascal Menoret, Denis Moreau, Julie de Muer, Boris Sieverts, Hendrik Sturm, SAFI, Serkan Taycan.
Curators: Baptiste Lanaspeze and Paul-Hervé Lavessière.
Scenography: Alexandre Field and Olivier Bedu
Graphic design: Jérôme Bourgeix
---
This showcase is part of the "Connectivities" exhibition.
The new semi-permanent exhibition "Connectivities" tells the story of the great Mediterranean port cities of the 16th and 17th centuries: Istanbul, Algiers, Venice, Genoa, Seville and Lisbon were strategic points of power and exchange in a Mediterranean that saw the birth of modernity between great empires and globalisation.
Curated by Myriame Morel-Deledalle and Sylvie Amar.
Gallery of the Mediterranean 2
J4 | 2017-2023